Certified B Corporation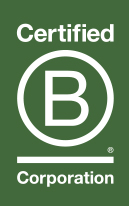 Certified B Corporations meet the highest standards of verified social and environmental performance, transparency, and accountability.
As the first Herbal Supplements Company to become a Certified B Corp™, we use business as a force for good: making products that are beneficial for people in a way that is good for the earth.
Since our first certification in 2010, we:
Continue to source over 75% Organic herbs to eliminate toxins from our supply chain. The rest are ethically wildcrafted or naturally grown.
Reduced source waste by redesigning our product packaging to use less plastic and use minimal packaging materials.
Use 100% biodegradable packing peanuts to ship our products
Meticulously recycle tons of cardboard, plastics and glass.
Recycle office supplies such as printer cartridges, tape dispensers, and plastic bags in order to minimize landfill waste.
Divert tons of compostable material from landfills:

The marc, or powdered plant pulp left over from the extraction process, is turned into compost in partnership with a local zero-waste farmer.
We also donate the marc to local farms and gardeners for their composting needs as well. Renewing this by-product is a great way to have a positive environmental impact and benefit our local agricultural community.

Conserve electricity: Installed LED lights in our laboratory and implement task-lighting and energy-saving office equipment settings.
Participate in TerraCycle brigades to responsibly dispose of various waste streams
Support our community through contributions and in-kind donations
You can view our current B Impact Report, and learn more of what it means to be a B Corp™.